For some reason, I have never liked rava upma that is made in most homes. I find it insipid and very greasy. As a matter of fact, upma was never made as breakfast in my home. None of us liked it. After my marriage, I saw my mother-in-law make upma with broken wheat or dalia.  I started liking its simple, hearty goodness and taste too. I have liked dalia though in my home it was made sweet with milk, sugar and ghee like a sweet porridge.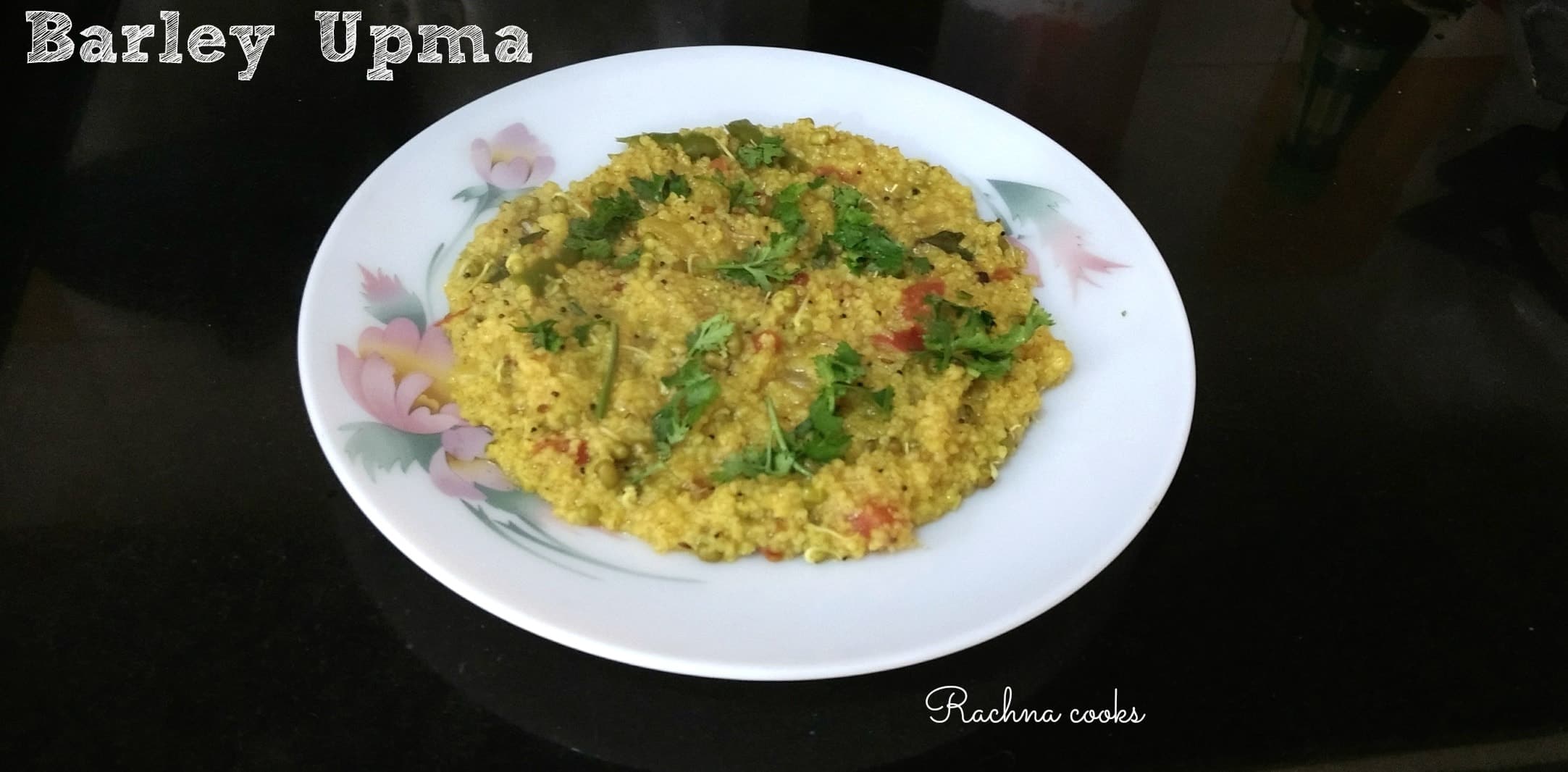 So, then this broken wheat upma became a staple for breakfast in my home. Served with a boiled egg, it is a great breakfast.
Recently I chanced upon barley rava at a Patanjali store. They also have a multi-grain rava made with millets and other grains. My husband calls it bird feed. Using that rava for upma will force you to use pressure cooker as some of the stuff in there just does not get completely cooked on stove top. And the taste can be a bit strong for some.
Anyway, here is the recipe of the barley upma which is really simple and delicious. You can substitute the barley rava with broken wheat for a similar recipe. You can also add whatever vegetables you like. Just boil them and keep. I enjoy adding mushroom right at the end. In this recipe, I had added some sprouted green gram as I had them handy.
This recipe takes about 20 minutes including cooking time. I am not much for slogging in the kitchen. So here goes:
Serves 4
Ingredients:
250 gms. Barley Rava
1 onion chopped fine
2-3 tomatoes chopped fine
2-3 green chillies (slit) (optional)
1 cup vegetables (chopped mushroom, beans, carrot, peas, sprouts or whatever you fancy)
1 tsp. mustard seeds
1 tsp. cumin seeds
a few curry leaves
1 tsp. split bengal gram (chana dal)
1/2 tsp. turmeric powder
Oil 2 tsp.
4-5 cloves
1 stick cinnamon
Coriander leaves for garnish
Recipe: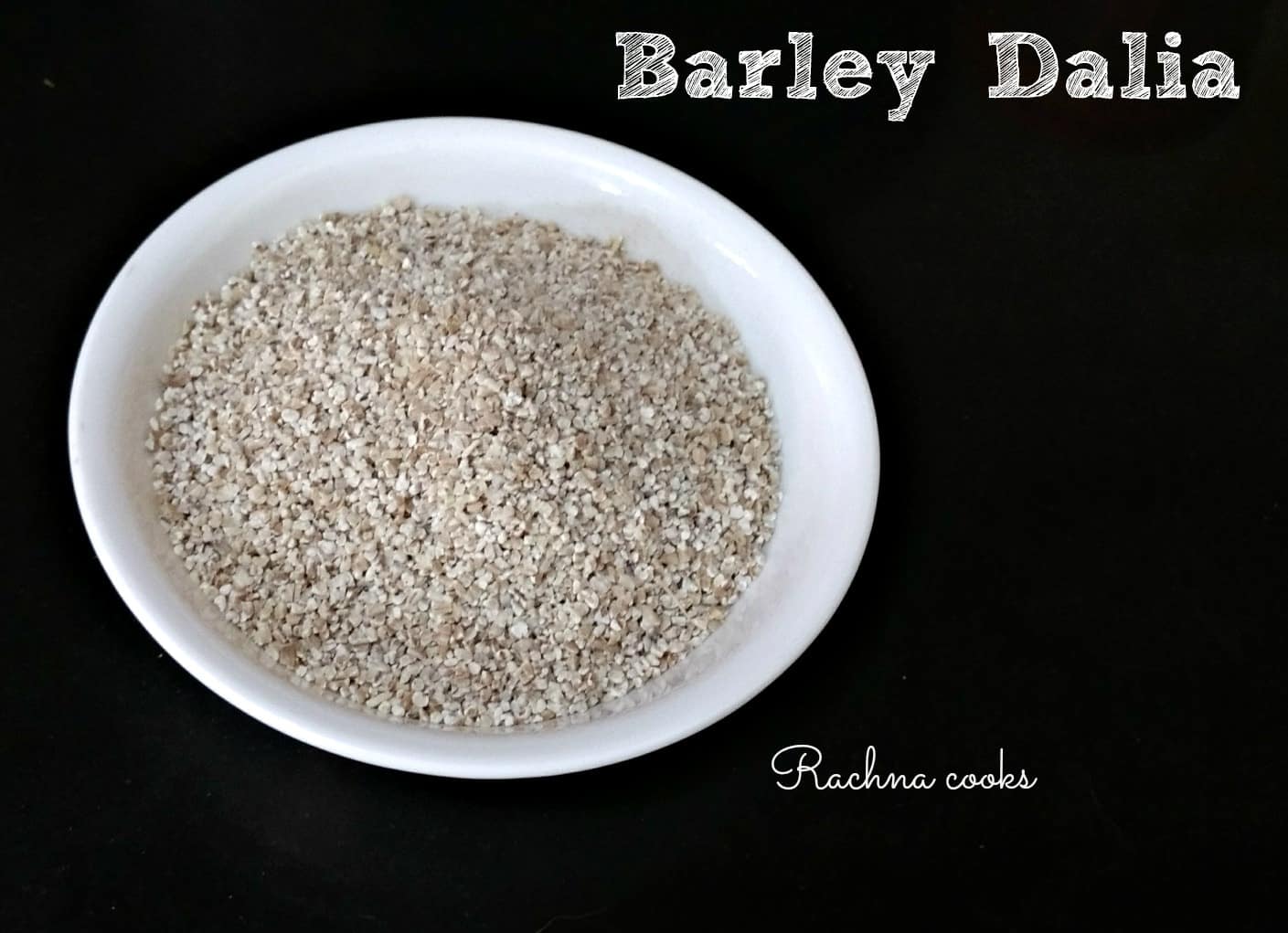 Heat oil in a kadhai/wok. Add mustard seeds. Allow them to sputter. Add in cumin seeds, split bengal gram and curry leaves.  Also add cloves and cinnamon. Allow them to fry for a minute. Now add chopped onion and split bengal gram. Cook till the onion becomes translucent.
Now add in the tomatoes. Fry for about couple of minutes. Tip in the barley rava and roast with the masalas for a couple of minutes. Now add turmeric powder and salt to taste. Start with less. You can add more later.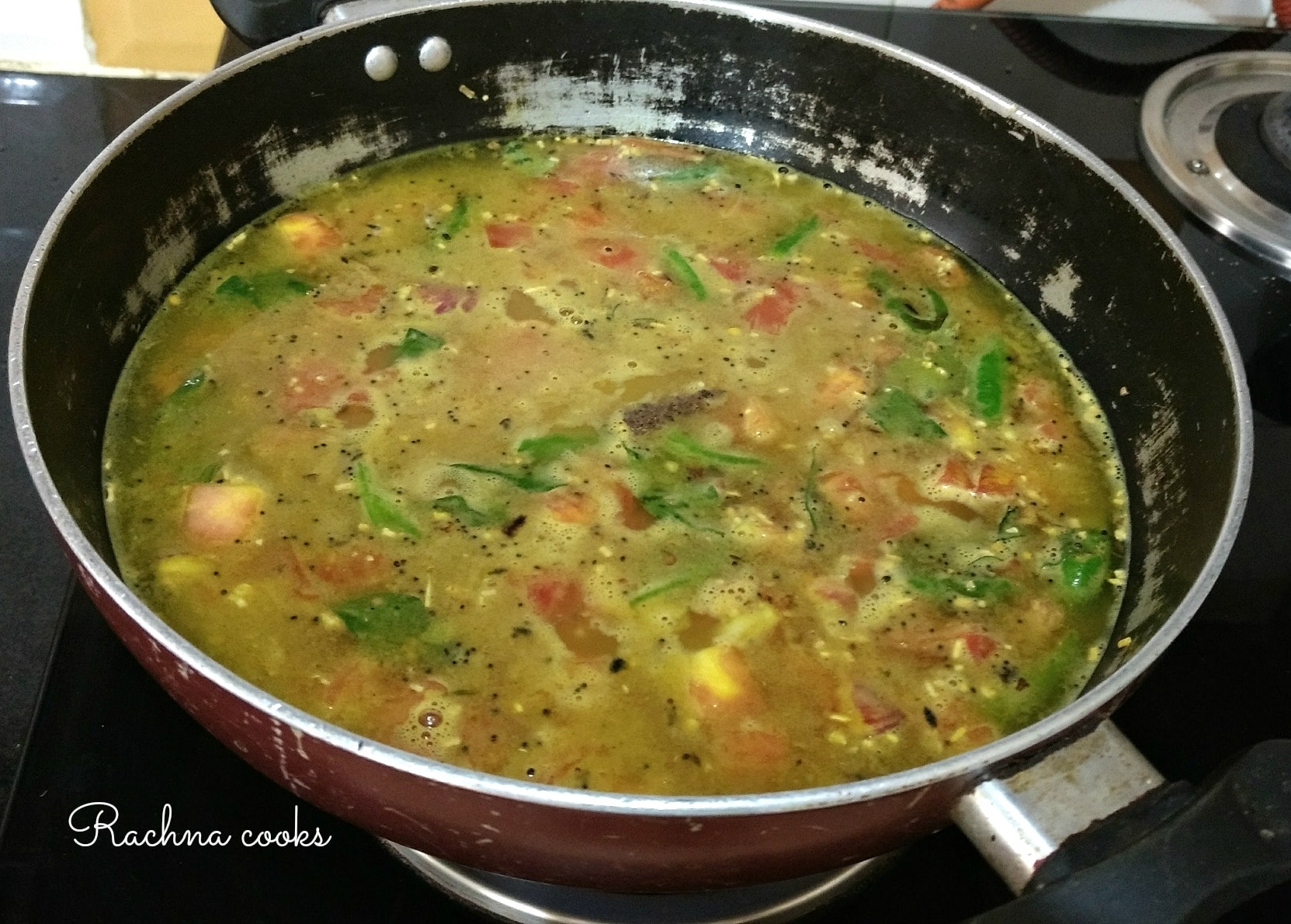 Add in about 3 cups of water. Mix well and let it come to a boil. Cover the kadhai and simmer till the upma has cooked and the water has evaporated.
If you feel that the upma is still underdone and the water has really reduced, add a bit more. No sweat. Also taste and season for less salt. If you like it spicier add some red chilly powder.
Towards the end add in the mushroom and the sprouts which do not need much time for cooking. If you are adding other veggies like carrots, beans, peas etc. make sure that you boil them and keep. Then add them towards the end to soak in some flavour.
Garnish with coriander leaves. Serve hot. You can eat it as it is or have a boiled egg on the side. Enjoy.