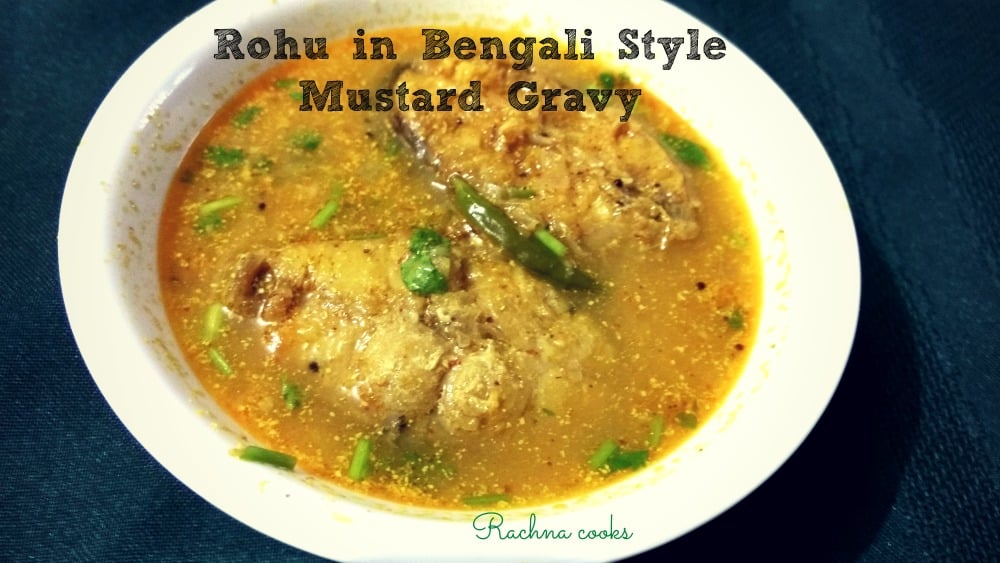 Golden brown pieces of succulent rohu (Indian carp) in golden brown, silken pungent, fiery gravy is the stuff dreams are made of. I took to fish very late in life. This mustard style curry that I've had at my Bengali friends' houses, I've loved. I tried making it with recipes on the internet but somehow it never turned right. Either it was too pungent or too tasteless.
Many failed experiments, and I've finally come up with a recipe that tastes pretty good. Thanks to a Bengali friend who gave me some good inputs and also Sanjeev Kapoor recipe that I modified. So here you go:
Ingredients:
8 pieces/fillets Rohu fish (ask for Bengali curry cut) (without head)
2 onions chopped finely
1 tbsp. ginger paste
1 tbsp. garlic paste
1 tbsp. mustard paste
4 tbsp. Mustard oil
1 tsp. mustard seeds
½ tsp. kalonji (onion) seeds
2 tsp. red chilly powder
2 tsp. coriander powder
1 tsp. turmeric powder
2 tsp. lemon juice
4-5 green chillies
chopped coriander to garnish
Salt to taste
Recipe:
First, clean the fish and marinate it with turmeric powder, salt and lemon juice and keep aside.
Heat 2 tbsp. of mustard oil and cook the fish fillets till they are golden brown. Keep aside.
To make the gravy, take the remaining mustard oil in the same pan. Heat it and add mustard seeds and kalonji. Allow them to sputter. Add in the onions and ginger-garlic paste and cook till the onions are golden brown and ginger garlic paste is assimilated.
You can make the mustard paste by adding a little warm water and blending it. Now add this paste to the onion, ginger-garlic paste. Cook for about 3-4 minutes. Now add chilly powder, coriander powder and salt. Add in a cup of water and the fried fish pieces along with slit green chillies. Cover and cook till the gravy looks well cooked. Taste and adjust seasoning.
Garnish with coriander leaves and serve hot with boiled rice.
The gravy is slightly runny and goes well with rice. You will love this curry.
Enjoy.
Tips:
Unless you've grown up eating mustard, keep the amount of mustard paste less when you cook for the first time. The pungency of mustard is not everyone's cup of tea.
Buy fresh fish. Check the eyes. They should look clear and transparent. You can use Catla (Bengal carp) or any other firm fish.
Let me know how it turned out.