Pasta is a favorite in my house. My sons are always game for pasta even though I cook it regularly. Their favorite is pasta in marinara sauce with varying combinations of protein and vegetables. Pasta in pesto is also made occasionally. But recently I thought of innovating a recipe. Since my avocado tree has been bearing copious fruits that I am unable to consume easily, I am trying to incorporate avocado into my daily cooking.  So, brace yourself for an onslaught of avocado recipes. 🙂 Now, avocado is really creamy and buttery with a subtle taste. But, being delicate one has to handle it gently.
This pasta recipe uses the simplest of ingredients to make a delightfully tasty yet subtle pasta. It is also a versatile recipe where one can play around with ingredients.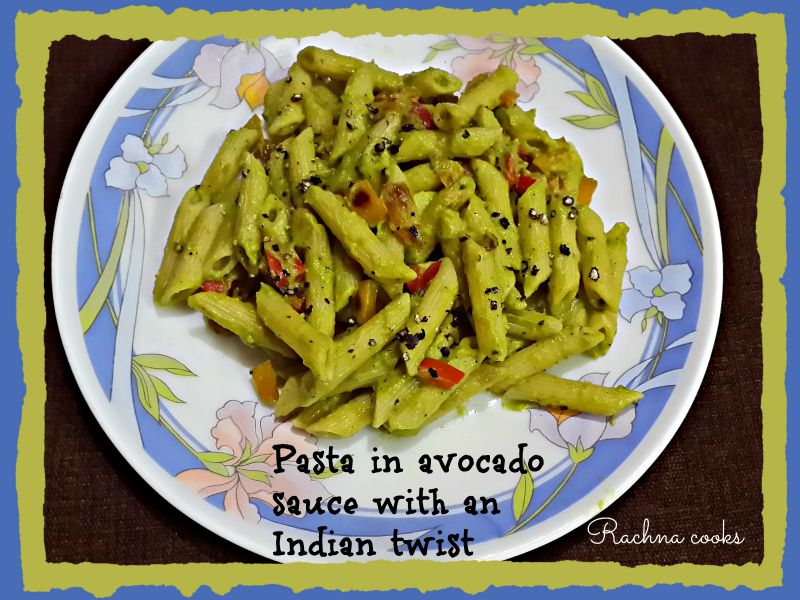 Servings: 4 hearty servings
Preparation Time: 15 minutes
Cooking time: 20 minutes includes cooking pasta
Ingredients:
500 gm. Del Monte pasta (use penne, macaroni or spaghetti)
Mashed pulp of 2 ripe avocados
A dozen fresh curry leaves
1 tbsp. black pepper and some more coarsely ground for garnish
6-8 cloves garlic
Juice of 1 lemon
Salt to taste
Chopped red and yellow peppers 1 each
2 tbsp. olive oil
Recipe: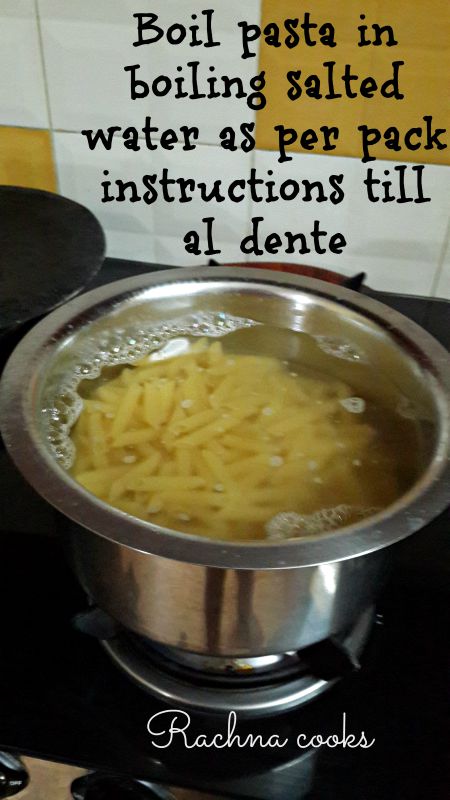 Boil pasta in lots of water which has been salted as per the instructions on the pack.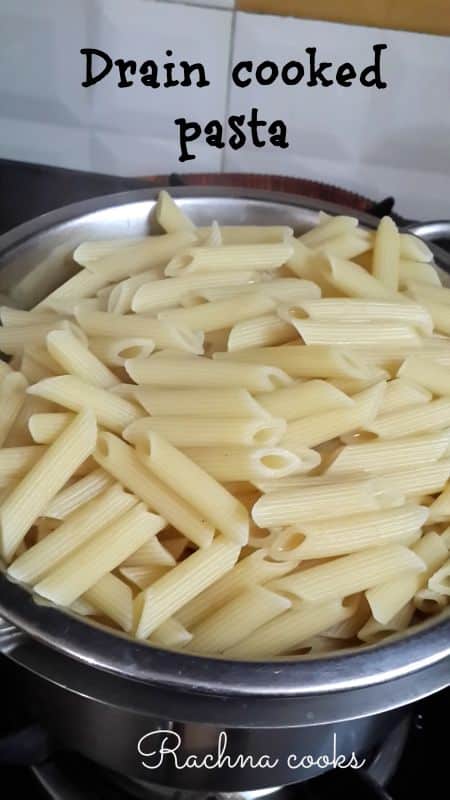 It is important to drain the pasta when it is almost cooked (al dente) or still has a bite to it. Drain into a colander and keep.
While the pasta is cooking, prepare the simple avocado sauce.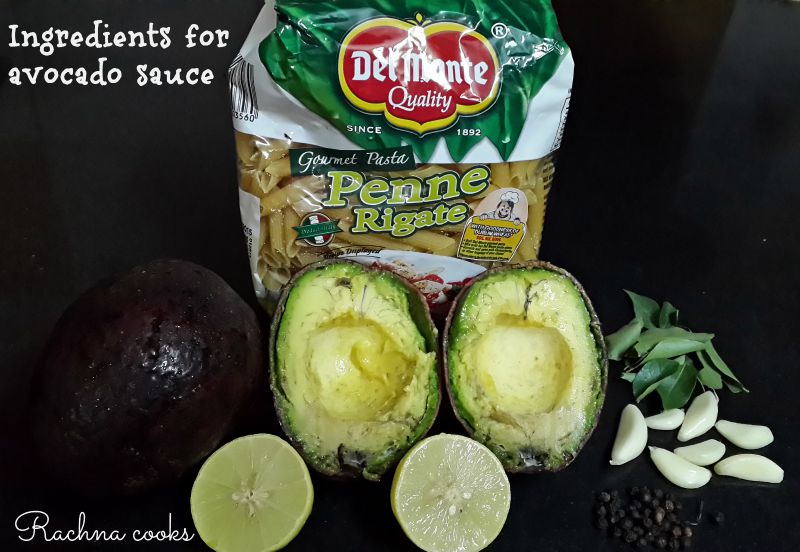 Take the black pepper, garlic and curry leaves and blend them along with the avocado pulp till a thick, smooth sauce is prepared.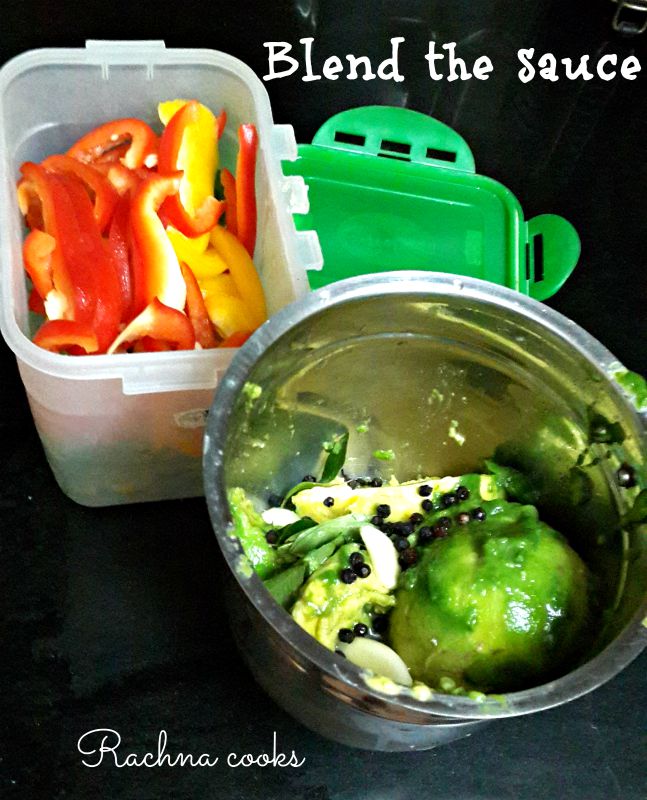 Add lemon juice and mix to keep the pretty green colour of the sauce intact. Add salt to taste and keep aside.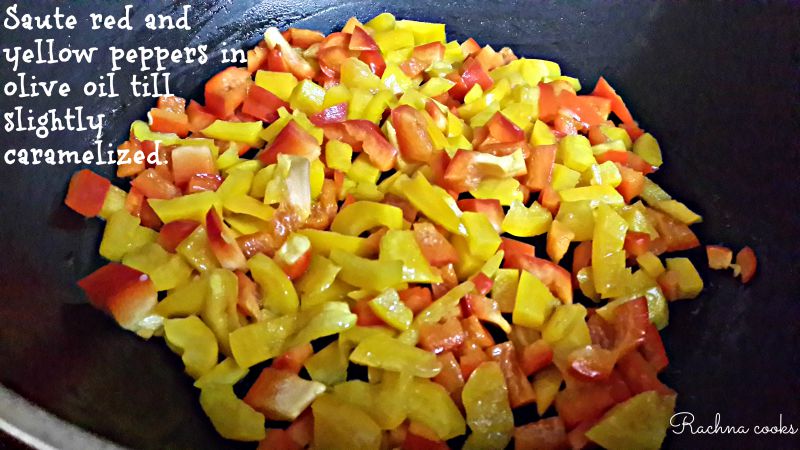 Now take 1 tbsp. olive oil in a pan and heat it. Saute finely chopped yellow and red pepper till slightly caramelized. Don't overcook it. Let them be crisp. Take it off the heat. Add salt and freshly ground black pepper to taste and keep aside.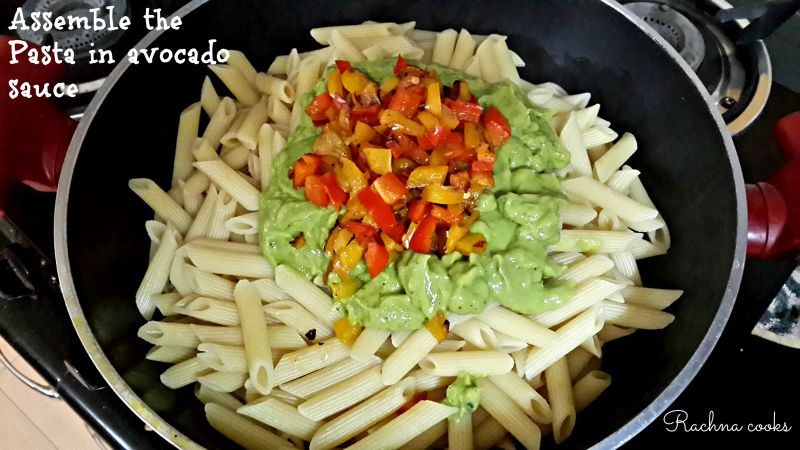 Now assemble the pasta by adding the avocado sauce and sautéed peppers to the prepared pasta. Mix well and serve hot garnished with 1 tbsp. olive oil and some more black pepper.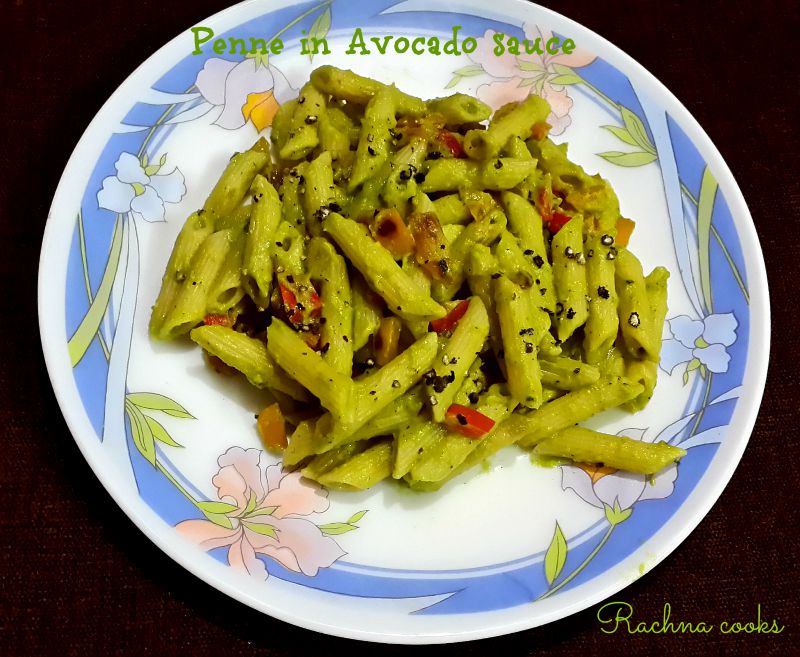 This avocado sauce has the delicate taste of avocado, the sharpness from the garlic, the subtle flavor of curry leaves which is the Indian twist that surprisingly gels well and the bite from black pepper. The simple, clean flavors come together to give a lovely, creamy, nutritious pasta recipe that I hope you all will enjoy.
Tips while cooking pasta:
Always salt the water you cook the pasta in. That is your only opportunity to get some salt into the pasta.
Don't overcook your pasta. Remember it continues to cook even after you take it off the heat. No one likes mushy pasta.
You can use proteins like sauteed chicken, fish or prawn in the above recipe.
You can use parsley or basil to garnish as I always do but in this recipe I did not wish to drown out the subtle flavor of curry leaves in the sauce.
Avocado is very creamy and hence there is no need for cheese which is otherwise commonly used in pasta. You could still add cheese in your sauce if you like it very cheesy.
You could use toasted nuts like pinenuts or sesame seeds for garnishing to add extra crunch.
You could substitute the peppers in this recipe with any other vegetable of your choice like mushroom, zucchini, broccoli etc. Like I said, it is a versatile recipe.