I had methi chicken for the first time at Tandoor in Bangalore and totally loved it. Methi (which is normally slightly bitter) went so well with chicken and the spices complemented the gravy perfectly. So, well I had to try it out at home. This recipe is adapted from Sanjeev Kapoor's recipe and it did turn out quite good even at first attempt.
Here is the recipe: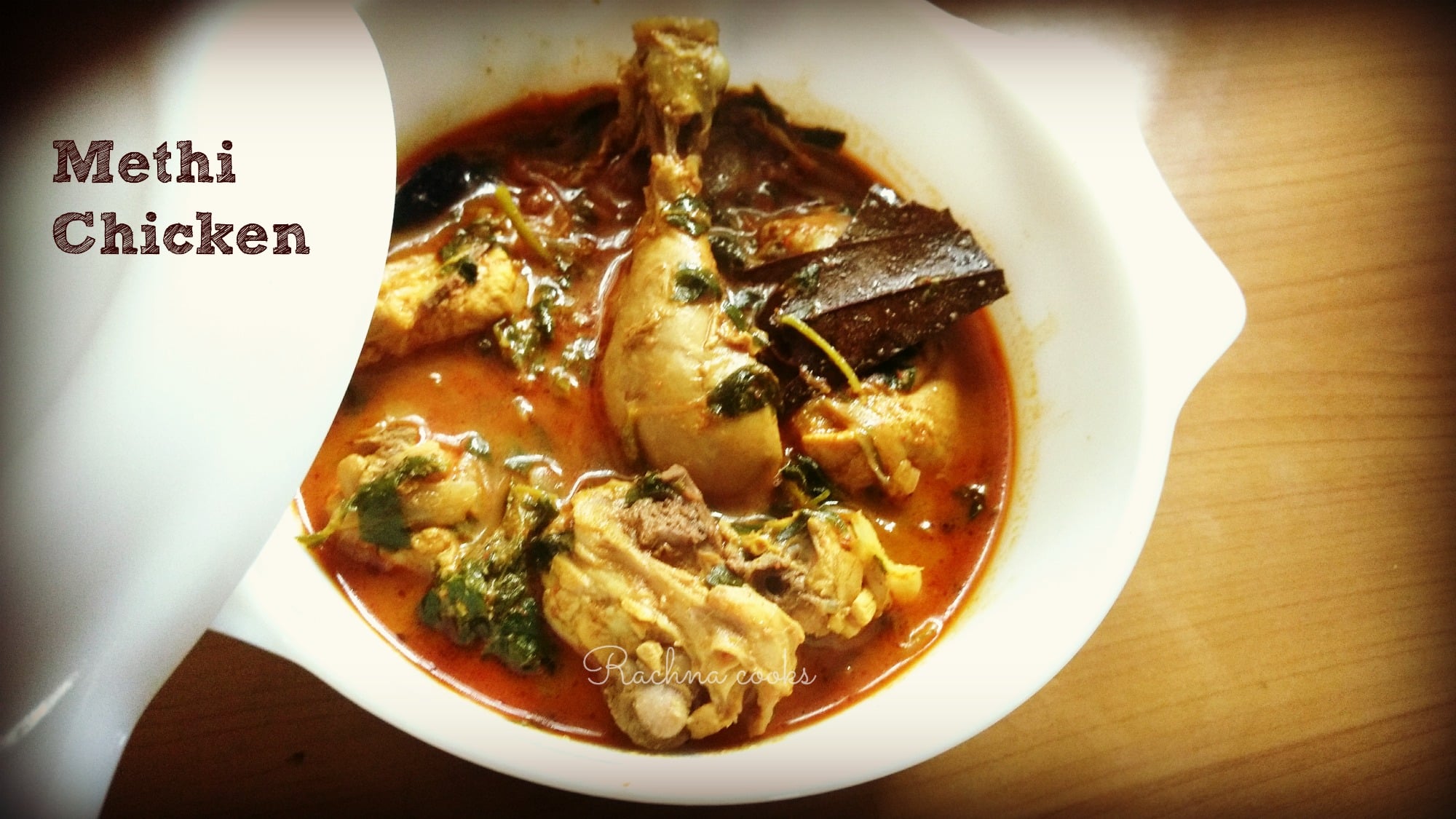 Ingredients:
750 gm. chicken cut in pieces with bone
1 cup fresh methi leaves (you can use 3 tbsp. kasoori methi as a substitute)
2 tbsp. ginger paste
2 tbsp. garlic paste
2 medium onions finely chopped
3-4 green chillies slit
2 tbsp. oil
2 tsp. red chilly powder
2 tbsp. coriander powder
2 tsp. garam masala powder
1 tsp. turmeric powder
1 cup yoghurt/curd whisked
Salt to taste
1 tsp. cumin seeds
2-3 cloves
4 green cardamom
2 bay leaves
1 small piece cinnamon
2 black cardamom
½ tsp. kasoori methi for garnish
Recipe:
Clean and wash the chicken. Dry and keep aside.
Heat oil in a large pan/kadhai. Add in the cumin seeds, cloves, cardamom both green and black, cinnamom and bay leaves. Saute for about a minute till the spices get cooked. Now add in the onions. Cook it till they are translucent. Add in the ginger-garlic paste and saute for about 3-4 minutes till they seem cooked. Now add in the slit green chillies, turmeric powder, coriander powder and chilly powder and saute for a minute.
Now add chicken pieces to this masala along with yoghurt. Mix well and cook on high for about 7-8 minutes.
Finely chop the methi leaves and saute in a tsp. of oil till cooked. Add this to the chicken and add a little water if it is too dry. Add salt. Cover and cook on low heat for about 10 minutes. The chicken should be tender by now and the gravy becomes thick. Add in the garam masala now.You can add more water if you want thinner gravy. Do taste and adjust salt and spices if you do so.
You can add more water if you want thinner gravy. Do taste and adjust salt and spices if you do so.
Serve hot garnished with some kasuri methi (dried methi leaves). This goes equally well with both chapatis and rice. It does taste better if kept for some hours.
Tip: If you don't have fresh methi leaves, use 3 tbsp. kasuri methi instead. You don't need to saute it. Just add it to the chicken with some water.