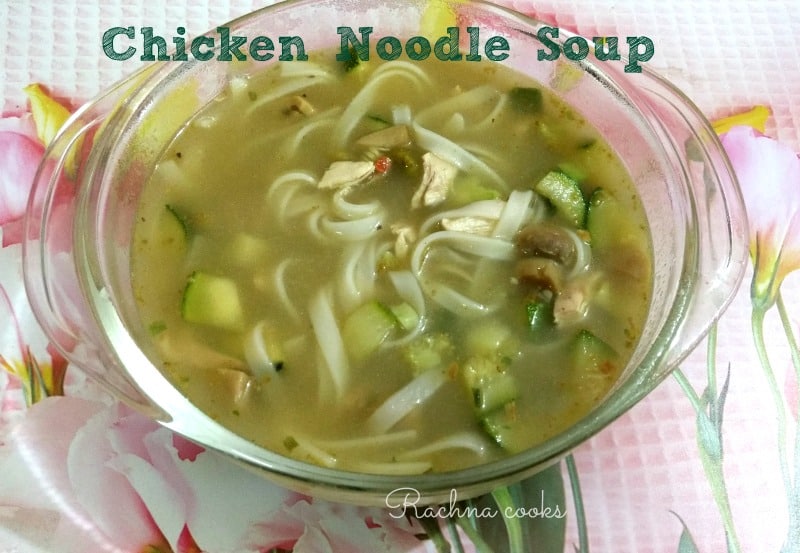 Since all the three boys are down with sniffles and fever, I thought of making chicken soup from scratch. As we all know that chicken soup is proven to fight cough and cold and hence forms the perfect companion to the ayurvedic remedies that I am giving them otherwise.  Making stock takes the maximum time and you could make large batches and store the stock in the fridge or the freezer. I made a large enough batch so that I can make one more instalment of the soup tomorrow.
Here's the recipe
For the chicken stock:
½ Kg. chicken with bone, cut in large pieces
2 litres water
1 large onion chopped roughly
8-10 cloves garlic
1-inch piece ginger cut into pieces
10 black peppercorns
5 cloves
1 bay leaf
1 mace
1 small piece cinnamon
Throw in all the ingredients together and put on high heat till it all boils. Then cook on simmer for about 30 minutes till the chicken is cooked through. Do skim off any impurities that rise to the surface in the interim. Now strain the stock. This pale liquid is fragrant and full of flavour and goodness from the chicken.
For the soup:
200 gm. rice noodles (I used Thai ones)
1 zucchini finely chopped
a few button mushrooms sliced
a few broccoli florets finely chopped
8-10 peppercorns crushed coarsely
salt to taste
1 tsp. Thai green curry paste (optional)
Recipe for the soup
Use 3 cups of prepared stock. I boiled the finely chopped vegetables in the stock. In another pan, I cook the rice noodles for 4-5 minutes in salted water till done. I drain the noodles and throw them with the stock and vegetables. Now add in shredded chicken about 250 gms. Put in the crushed pepper powder along with Thai green curry paste if you want to else you can leave it out. Add salt. Check seasoning and adjust.
Take it off the fire and serve hot. It is delicious and very soothing for achy throats. It will open your sinuses too. And even if not sick, it does taste really good so good that I am making it again tomorrow.
Tips:
You don't need to put in the vegetables. Just chicken, noodles and stock is good enough on its own.
You can use any vegetables you like carrots, cabbage, peppers etc.
You can substitute Thai noodles with the more commonly available ramen noodles
Hope you enjoy the recipe!