Butter chicken is a rich yet sinfully delicious dish. The makhani gravy can be used for paneer (cottage cheese) and mixed vegetables if you don't eat non-vegetarian food. I decided to make this dish at home for my husband who just loves it when we eat out. It is an amazingly simple recipe and does not take much time if you have the ingredients at hand. And it does take your meal to the next gastronomic ecstasy level. Here is my recipe for Chicken Makhani also known as Murgh Makhani or Butter Chicken, a delightful and hearty Punjabi dish.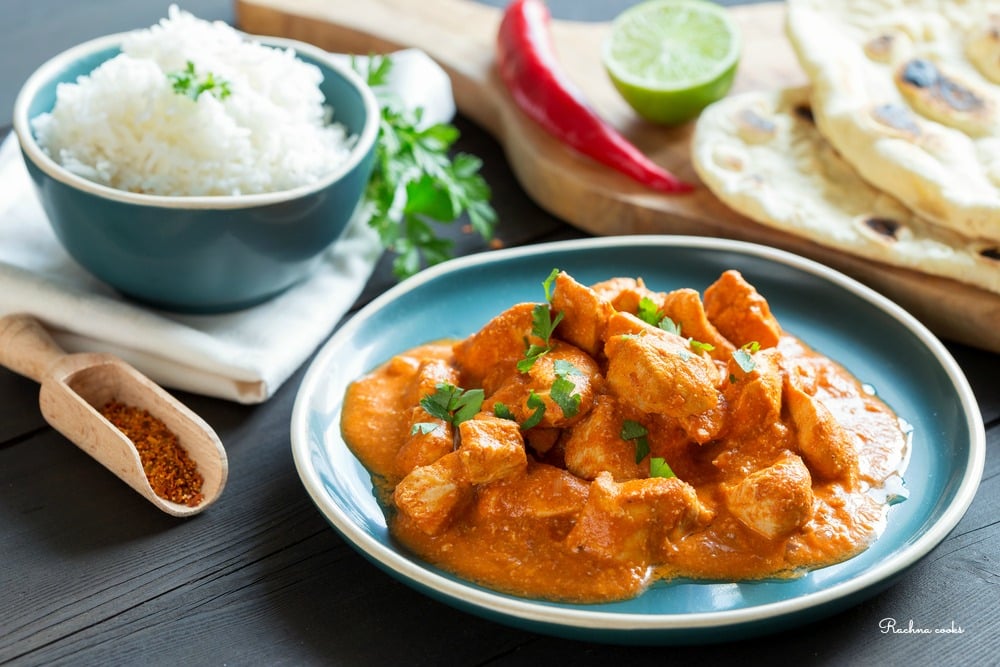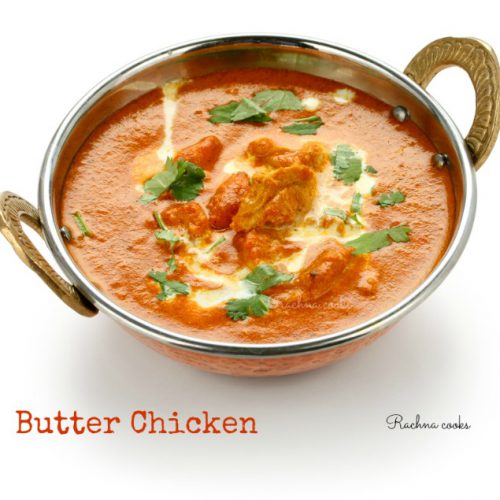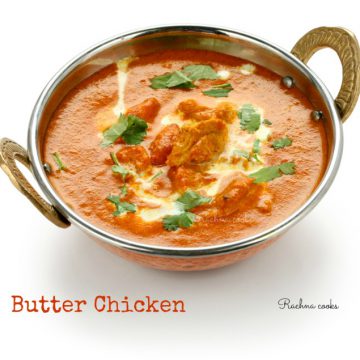 Chicken Makhani/ Butter Chicken
This is a centerpiece recipe that will liven your get together or just an evening at home. Make my recipe of Butter Chicken and impress your family and friends. It is finger licking tasty
Ingredients
400

gm

Boneless chicken

cut into cubes

200

ml.

Fresh Cream

+ 1 tbsp. for garnish

Tomato puree about 750 gms.

made with 5 large tomatoes

1

tbsp.

ginger garlic paste

1

tsp.

turmeric powder

1

tsp.

coriander powder

1

tbsp.

Kashmiri chilly powder

for the bright red colour

1

tsp.

garam masala powder

½

tsp.

sugar

4

tbsp.

Butter 4

salt to taste

2

tsp.

Kasoori methi crushed

For chicken marinade:

1

tsp.

turmeric powder

1

tsp.

chilli powder

1

tbsp.

ginger garlic paste

1

tsp.

tsp. black pepper powder

2

tbsp.

thick yoghurt

salt
Instructions
Marinate the chicken pieces by using the marinade ingredients. Marinate for 2-4 hours.

Now in a pan, take 2 tsp. butter and heat it. put in the marinated chicken pieces and sear them. Cook them more than half the way through and let them get a brownish coating outside. Set aside.

In another pan, heat remaining butter and add the chopped tomatoes (or tomato puree) along with ginger garlic paste and cook for about 15 minutes on low heat. If using chopped tomatoes blend this mixture when cooled.

Add the cream to it now keeping some aside for garnish. Cook for another 2 minutes and add the semi-cooked chicken pieces along with salt, turmeric, coriander powder and garam masala powder. Remember that the chicken also has salt so be careful while adding to the gravy. Cover and cook till chicken pieces are done and the gravy is creamy. Takes about 10 minutes. Now add sugar and Kashmiri chilli powder. Taste and adjust seasoning.

Garnish with kasoori methi and serve with a swirl of cream.

Your silken Chicken makhani is ready to serve with rotis or rice.
Notes
Some people use leftover tandoori chicken but I find that it gets very dry in the gravy. If you want you may grill the chicken in the oven before adding it to the gravy.
If using chopped tomatoes instead of tomato puree, do strain the curry to remove skins and seeds of tomatoes.
You can also substitute with paneer or cottage cheese or mixed vegetables for a vegetarian version.
Thin the gravy with a little water if it looks too thick to you.
This dish is very heavy on calories. If you wish to make it healthier, use milk instead of cream for a creamy texture.
Check out our Food videos
Subscribe to our Food channel for recipe videos
This is a recipe which is a truly North Indian/Punjabi recipe. It is famous the world over for its robust delightful flavours. Do add this recipe to your repertoire and get compliments every time you cook it.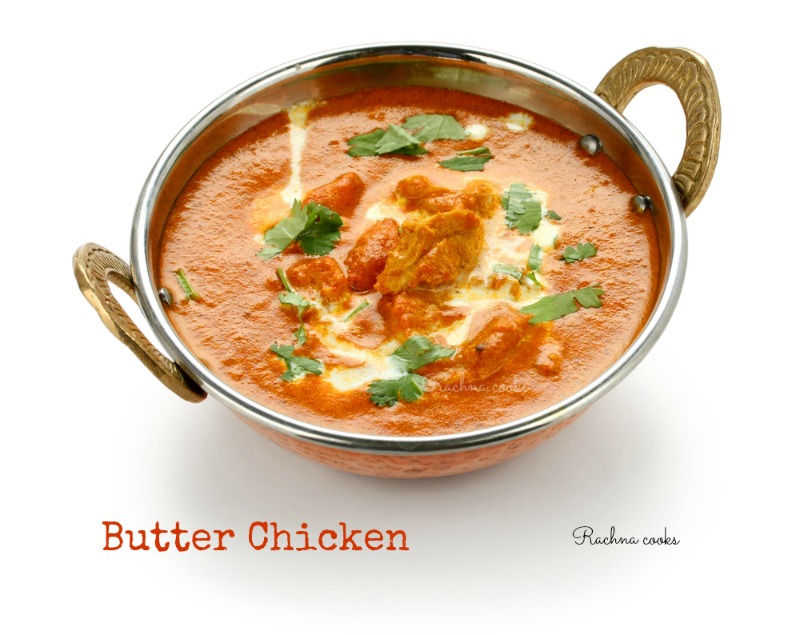 If you make it, do share with me how you liked it and also share the post.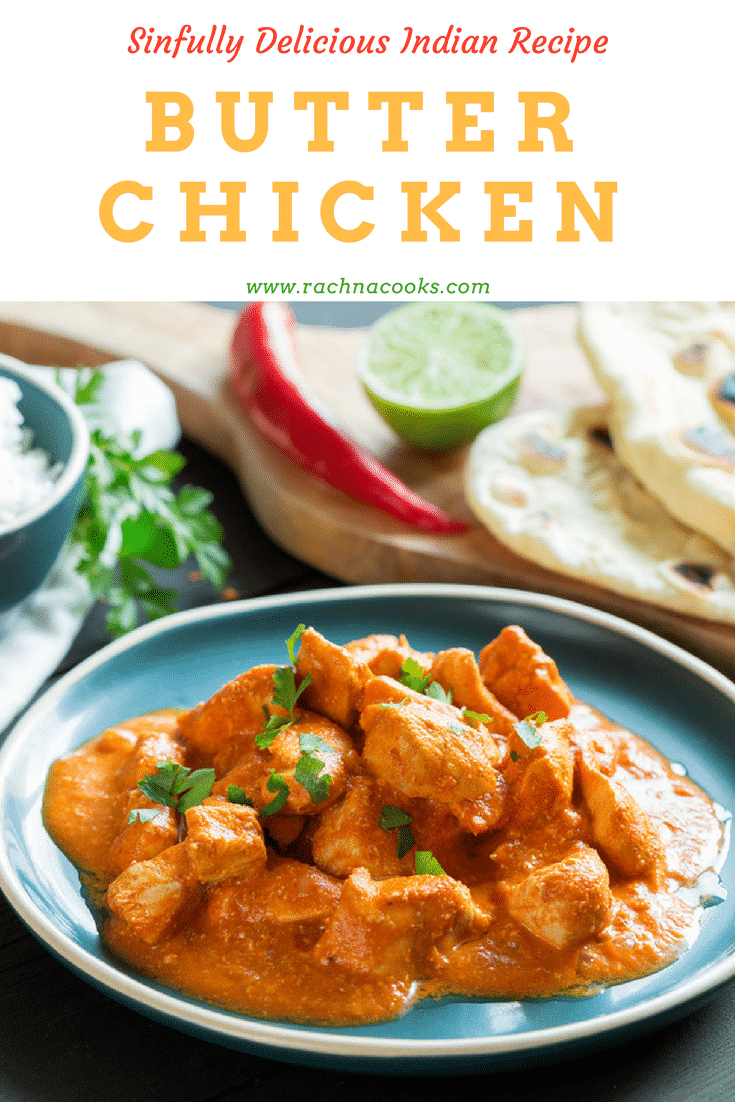 Subscribe to my monthly newsletter for more such recipes, health, food and fitness tips:
Click here to join