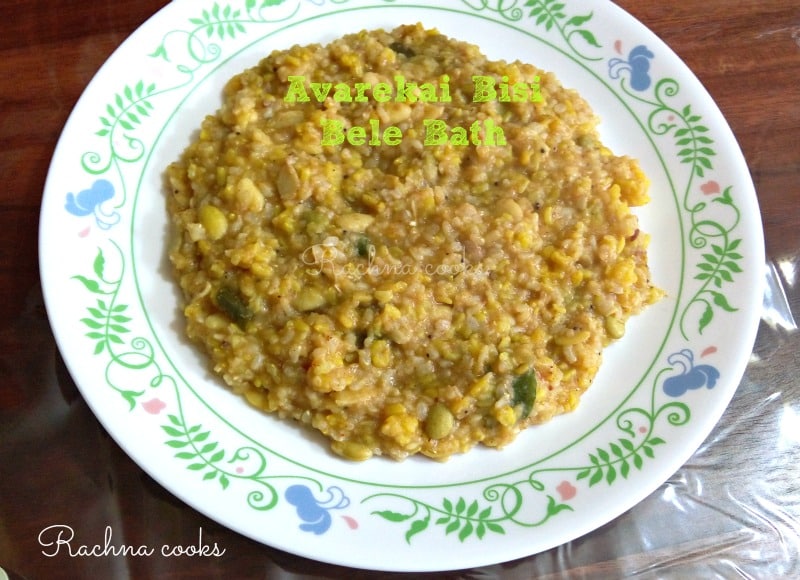 It is Sunday and the only day when I feel like putting in some extra time to cook elaborate dishes like Bisi Bele Bath (yes, that is how they spell it here) and Chicken Biryani. This dish is a special rice dish served in the South. You will find it on the menu of grahpravesh (housewarming) and wedding meals among other special feasts. I fell in love with this dish when I had it for the first time. Spicy, tangy and yummy. What's not to like, eh? My mother-in-law's younger sister who is known for her culinary prowess in the family makes it from scratch every time which includes making the masala powder fresh. I do dig her bisi bele bath powder which makes my work easier. But poor health is stopping her from making it these days.
Then, my friend Janaki, who has started her own food venture, Nutrisattva, came to my rescue. I have already tried her sambhar powder and like it. So, I asked her to send her fresh, homemade bisi bele bath powder. Armed with it, I decided to make this dish today morning for breakfast. It is heavy enough for a brunch but then you have not seen the appetite of my boys.
This one is made with fresh avarekai (also called avarebele) which is in season right now. Avarekai is a local bean, flat bean that the Kannadigas have orgasms over. This bean is in season only for the two winter months of December and January. It is the time when you find an overload of this quaint bean in everything that comes out of the Kannadiga kitchen. Tossed in upma, used in sambhar, made a curry with, used generously in dosas, idlis, akki roti -- you get the picture, right? You also have an avarekai mela every year near Sajjan Rao Circle in Bangalore where you can get to taste yummy dishes and weird ones like avarekai halwa (which looked like green goo and tasted only of sugar) and avarekai kaju katli (which was terrible). The avarekai dosa, akki roti, sambhar, obbattu were yummy though. The crowds were maddening. No place to even stand and eat while we jostled with annoying hawkers, bikers and two wheeler riders. Long queues and general disorder put you off. I am definitely not visiting again but I have added a couple of recipes to my repertoire after eating here.
So back to this recipe now. Inputs from Janaki for the recipe with my minor tweaks.
6 hearty serves
Ingredients:
250 gms. Avarekai beans (peeled, shell removed) (You could alternatively use onions, potatoes, tomatoes, french beans, carrots, knol khol etc.)
3 cups rice
1.5 cups tuar dal (pigeon peas)
1 small ball of tamarind immersed in hot water, strain its juice
4 tbsp. bisi bele bath powder (Start with lesser quantity and add more depending on your taste)
1 tbsp. chilly powder (I prefer mine hotter but you could skip it)
1 sprig curry leaves
salt to taste
For tempering:
2 tbsp. ghee or oil
1 tsp. mustard seeds
2 sprigs curry leaves
1 tbsp. gram dal and udad dal
½ tsp. heeng or asafoetida
Recipe:
Wash the rice and dal and cook it with equal quantity of water and 1 tsp. of salt in a pressure cooker till it is soft and mushy. If you are using vegetables cook them separately in water with a bit of salt till done. I avoid cooking them in the pressure cooker along with rice and dal because they get overcooked. Now in a kadhai or big patila/pan, boil 1 cup of water. If you are using avarekai beans, add them to hot water. They cook pretty quickly. Now to this water add the tamarind extract, bisi bele bath powder, salt and curry leaves. Let it simmer till the avarekai beans are cooked. Takes about 10-15 minutes.
Now tip your cooked dal and rice mixture to the simmering beans with tamarind and masala. Add well. If it is too thick add more water. Taste and adjust seasoning. I added some chilly powder as it was a little less hot for my taste. You can add more bisi bele bath powder too if you want. The consistency should be porridgy that is slightly runny. Cook on simmer for about 5 minutes so that everything is well incorporated.
Before serving, temper with the tempering ingredients. Heat ghee/oil in a small pan. Add the mustard seeds, heeng and dal till the mustard sputters. Now add the curry leaves and after 30 seconds, tip it into the bisi bele bath. Mix well and serve hot. It is tasty as it is. In many places, it is served with potato chips or khara boondi. You can also serve it with a side of raita (yoghurt with cucumber, onion and chillies). Enjoy! It is hearty, filling and yummy. A lovely brunch on a Sunday. Hope you enjoy it.